Places of Interest in Bali
Other Indonesian locations
Seminyak is not far from Kuta and has a much more relaxed environment away from all the crowds and shopping centres. Seminyak has a bit more up market hotels and resorts.
There are many beach resorts and villas to choose from, a great selection of restaurants and bars. There are also some classy shops with great fashion and home wares. Check out Sunbebek at Jln Seminyak 6 for hand-woven cottondesigns made into cushions, drapes, bedspreads and handbags.
Seminyak Beach is less busy than Kuta Beach and the waves are small so a perfect place to learn to surf. There are surf boards along the beach for rent and a few places that offer surf lessons. There are also lots of sun chairs laid out on the beach for sitting back and relaxing.
Also along the back of Seminyak Beach are a row of chilled out cafes and restaurants serving fresh seafood and bloody cold beer.
Seminyak Flea Markets
Located at close to the end of Jalan Oberoi is the Seminyak Flea Markets which is open 7 days a week during the day and night. The markets sell a range of clothing incluing tshirts, sarongs, dresses, bikinis, sunglasses, leather handbags and arts and crafts.
There are plenty of internet cafes located in Seminyak charging 250Rp per minute. Many places have replaced their dial up connections with broadband though connection speeds still vary at different times of day. WiFi spots are also becoming very popular in the cafes and restaurants of Seminyak. Some have open access though others you'll need to ask for the password to use.
From the airport to Seminyak
From Bali's Ngurah Rai International airport to go to Seminyak the taxi fares are fixed at 85,000Rp. The taxi trip will take around 20 - 30 minutes depending on traffic. Just queue up at the taxi office and pay for the taxi at the airport. They allocate a driver to you. There are many taxi drivers who will approach you before you get to the taxi stand and offer higher prices.
Last updated 3rd December 2015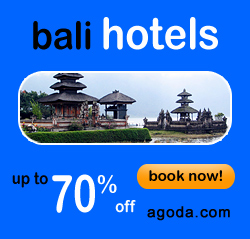 Seminyak has some of the best sunsets in Bali. The sunsets right over the ocean directly in front of Seminyak. There are a few great bars along the coast which have front row seats to watch the amazing sunsets. Check out Ku De Ta which is the coolest bar in Seminyak for watching the sunset. Also check ou the best beach bars in Bali.
Hotels and Accommodation in Seminyak
There are a few budget hotels found in Seminyak though most are higher priced hotels, beach resorts and luxury private villas. Check out the Hotels, Beach Resorts and Luxury Villas that are available in Seminyak
Restaurants in Seminyak
There are some great quality restaurants serving Balinese food as well as other Asian cuisine and Western food. Click here to see a list of the best restaurants in Seminyak.
The Best Bars in Seminyak
There are a heap of bars in Seminyak playing live music late into the night. The best bars are located over looking Seminyak Beach with large sun chairs to sit back and relax and watch the sunset. Here are the best bars in Seminyak:
Ku De Ta Bar is located at the end of Jalan Oberoi Seminyak overlooking Seminyak beach with large sun chairs to sit back relax and enjoy the sunsets. A small bintang beer costs 40,000Rp or a Corona will cost you 70,000Rp plus 10% tax and 6.5% service charge. For more information and photos of Ku De Ta Bar click here.
SOS Super Club Anantara Resort Seminyak located on the 4th floor of the resort, the views from SOS Super Club are amazing, straight over Seminyak Beach and down all the way to Kuta. A DJ plays chilled our tunes most nights and a live band on Saturday night. BBQ night on Tuesday and Seafood buffet.
Potato Head Beach Club is located along Jalan Petitenget overlooking Seminyak Beach with a swimming pool at the front of the club. They have a DJ playing music until 2am every night. Potato Head Beach Club has 2 bars and 3 restaurants including a fine dining French Restaurant located on the 2nd floor with great views of the beach and ocean, the Potato Head Restaurant serving snacks and light meals and a restaurant serving South East Asian cuisine. For more information and photos of Potato Head Beach Club click here.
Cocoon Beach Club is located on Jalan Double Six Seminyak over looking Seminyak Beach. With a private swimming pool, DJ and dining room serving a range of Western cuisine.